Ancient Herbal Remedies
Regular price
$100.00 USD
Regular price
Sale price
$100.00 USD
Unit price
per
Sale
Sold out
If you could have the best natural body of your life, would you?
If you could be healthy in a way that lets you still eat and do what you want, would you?
Be honest
Have you become stuck in a never ending cycle, constantly feeling unsatisfied with your body?
If the answer is 
YES
 then you should know it's time for that that cycle to end! My company can offer you the growth you desire. 
Individualized, custom tools and healing support for women to naturally improve their hormone balance, lose weight, relieve symptoms and be the version of 
YOU
 that you want to be.
​
Growth is only possible by completing a cycle. I'm ready to work with you level by level to see your dream body all the way through to the end.
Can you picture yourself celebrating your health accomplishments? YES! You can! I'm going to help you see what completion feels like.
Your goals don't have to look like mine or anyone else's. You might just want to lose weight, or get rid of a cyst, or hormonal imbalance, fertility, period pain, or maybe you just want to eat whatever you want without a stomachache. However it looks, you can have it. 
​
1:1 Health Coaching is available starting 2023
Coaching is the process of empowered action led by YOU.
I will work beside you as you strengthen yourself through the completion of new cycles. 
- This is a 4 month process where we meet for a total of 16 sessions.
In these sessions we discover the compromise between what you love to do and eat with what you will need to do to see results.
- I will be elucidating skills, tools, ideas, and wisdom with you through the process to help you develop lifetime habits. 
- We will utilize blood work and medical work from your doctor in addition to holistic practices. 
- These 16 weeks include hormone testing, fitness tracking, academic research, and ancient holistic remedies to support you on your journey to completion. 
Please make sure to add your email to receive your documents upon signing up as well as to make your appointment for our discovery call. The waitlist is to set up a discovery call with a health consultation and prospective client questionnaire to see if we'd be a good fit for each other. The call will be one hour long where we discuss where you are now in your health journey and your goals. This call is important for me to get to know you, offer tips you can implement now and to see if we're an energetic match. Feel free to email me at any time with any questions at contact@Imansss.com 
By Scheduling this call you are aware that this does not guarantee you a spot to be a client. This call will inform you on practices you can implement now. You are also aware that this is a 4 month long commitment between you and Imani priced at $8000 for the entire program. If chosen your waitlist fee will be taken off your total payment. Payment plans are available starting as low as $500.
Share
View full details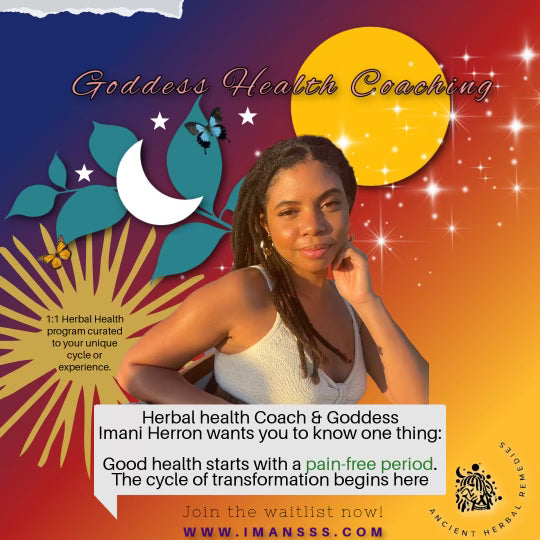 Frequently Asked Questions
How long do the teas last?

Your teas can last up to 4 months stored in a cool dry place. This is a 6 week supply of tea.
Is this tea safe with other medications?

Always check with your doctor first. We provide a full list of ingredients upon request.
What are the main ingredients in your teas?
Can I take this tea while on birth control?

Always consult with your doctor first. You can take most teas while on birth control except the Daily Vitamin Tea because it contains Alfalfa. Alfalfa has the possibility of counteracting with your birth control.
Is this tea safe while pregnant?

We only have one pregnancy tea, The Divine Mother Tea which can be taken after the first trimester. Please consult with your doctor before use.