Ancient Herbal Remedies
Regular price
$112.99 USD
Regular price
Sale price
$112.99 USD
Unit price
per
Sale
Sold out
This tonic reboots the entire nervous system for chronic nerve issues like muscle spasms, nervous conditions and anxiety. 
This can also be taken for circulation issues and numbness. 
Please do not take this while driving, it's extremely relaxing. 
***Please allow up to 2 weeks for delivery.***
Share
View full details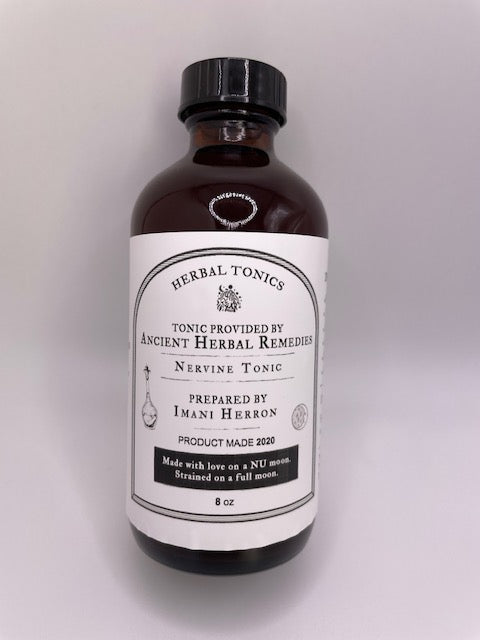 100/10
Imani knows what she's doing. That's all I'm gonna say!!!
I Love You Imani 💕
I suffer from chronic muscle spasms. I have three herniated disc in my lower back and two herniated disc in my neck. I've tried physical therapy, chiropractors, prescribed pain killers. Nothing worked! Until, I started using Imani's products. This Nervine Tonic is the truth and it works almost instantly. It's like it's own natural pain killer if I must say. This Tonic has gave me so much relief for all of my pain and suffering. I'm sending virtual hugs for helping me on my path to healing naturally. I love you soul much. Hugs and kisses.
Healing and happy 😊
The nervine tonic was everything I imagined. It has helped with resetting my nervous system and it's also helping me regenerate my nervous system to help stop those muscle spasms I experience. This tonic has blessed me in ways that the pharmaceuticals cannot. Thank you Imani for all you do and also helping me on my journey to natural healing. ❤️
Frequently Asked Questions
How long do the teas last?

Your teas can last up to 4 months stored in a cool dry place. This is a 6 week supply of tea.
Is this tea safe with other medications?

Always check with your doctor first. We provide a full list of ingredients upon request.
What are the main ingredients in your teas?
Can I take this tea while on birth control?

Always consult with your doctor first. You can take most teas while on birth control except the Daily Vitamin Tea because it contains Alfalfa. Alfalfa has the possibility of counteracting with your birth control.
Is this tea safe while pregnant?

We only have one pregnancy tea, The Divine Mother Tea which can be taken after the first trimester. Please consult with your doctor before use.